Tripawds is a user-supported community. Thank you for your support!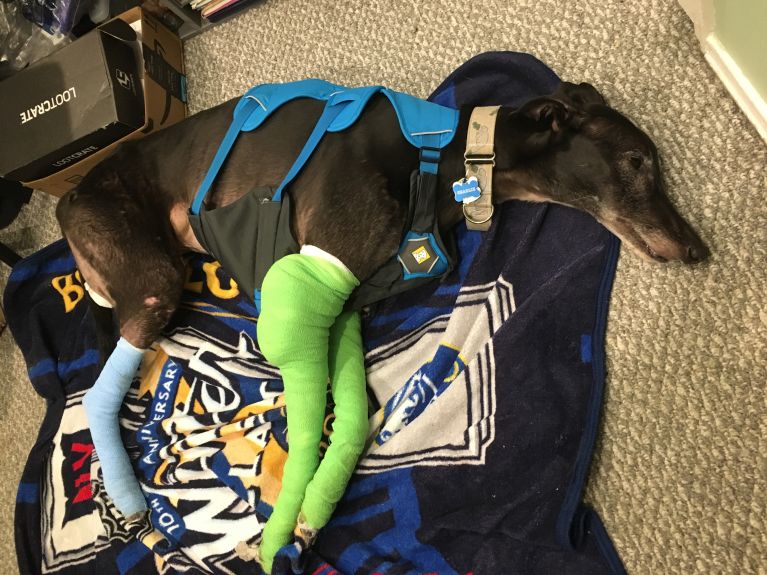 We had his usual bandage change last night. He actually tried to hop out of the car on his own, so he's starting to get it. We had to add a few more sutures last night to keep the bandage in place better. After speaking with the doctor last night after the bandage change he feels we can now move to every other day! -Sigh of relief- I gotta say it has been such a pain to get him in and out of the car twice and wait approximately 1.5 hours every night. I looked at the wounds before they bandaged it, the back where they amputated is looking better every day. His elbow on the other hand is just plain gross to look at. The sore on his arm and the elbow is growing granular tissue so it is starting to heal, but just not a pretty sight. The other elbow has scabbing over it so it isn't as bad. He has been running a low grade fever for the past 2-3 days. Its been at 103 deg F but last night was up to 104 deg F. We added in a new antibiotic (chloramphenicol) as a precaution, but overall he isn't showing signs of illness apart from the temperature. The open tissue no longer shows signs of infection, but it could be his body just reacting. It's kinda funny that he is on so many pills that I just put them all in a slice of chicken and down the hatch it goes. Much easier than me trying to take pills.
Charlie has been doing pretty well overall. He's eating well (though only providing I add some delicious eggs and chicken to the kibble). It was another late night getting home, so Taco Bell for dinner it was – which is so not on my diet! I did opt to get him a soft taco since he has been really good… he made it disappear in 0.5 seconds. We learned he likes tacos – though to no one's surprise.