Tripawds is a user-supported community. Thank you for your support!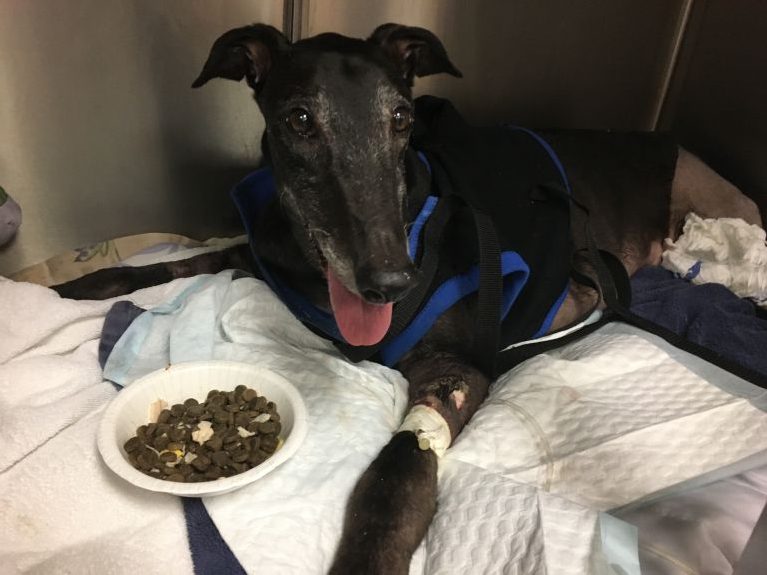 Visited Charlie. He's pretty much back to his normal old man grumpy self!
His appetite returned full force – then again he has been spoiled with all the good food I've been bringing over. I made him a nice egg omelette that he quickly devoured in less than a second and most of the cold cuts/boiled chicken I left there he has already gone through. Hopefully he doesn't get used to the good food. As you can see in the picture, we gave him some of his kibble and he pretty much ate all the add-ins and left the rest…. figures.
The swelling is gone away everywhere except for his front left paw. Hopefully when the IV line comes out it will help alleviate the swelling. They are keeping the IV line in for now just in case, but otherwise he has been moved to all oral medications. They are slowly lowering the pain medications as well to see how he will tolerate it. The doctors believe the incision where they amputated has become infected. Right now he is on three broad-spectrum antibiotics and they re-sutured/wrapped the incision. A bacteria culture was taken, but will be a few days for the results. We are also still waiting on the biopsy results from his leg – hopefully we get those this week.
From what I've been told, he has been trying to get up by him self more often now though still hasn't been able to do it completely. He is still a bit wonky on three legs and needs to have support still when walking. The techs have told me he has been a bit grumpy/snappy when they try to get him up… which I had to explain that is normal Charlie behavior. He hates to be moved at all when he is lying down, so I'm not surprised. If anything I'm more relieved to hear he is doing it (though I don't think the techs agree with me on that).
I would like to have him home by the end of the week, but it is going to depend on his progress moving on three legs and the situation with the infection. But overall, we are moving on along!